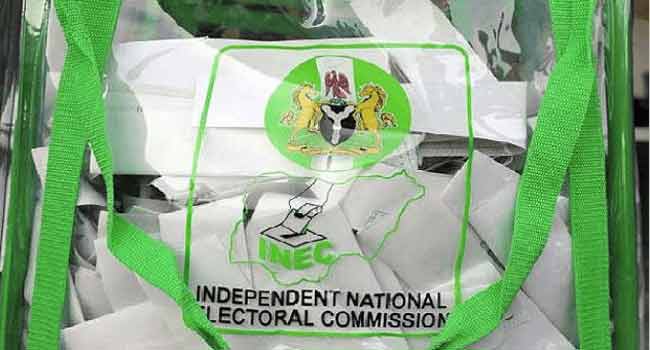 The Edo State Independent Electoral Commission (EDSIEC), has announced results of the Saturday local government council elections, in which the ruling All Progressive Congress (APC), won in all 18 Local Government areas.
Chairman of the commission Professor Stanley Orobator, described the exercise as rancour-free noting that there were no cases of violence across the state.
According to the results announced by EDSIEC, Mr, Victor Emuanhagbon Victor of the APC was elected as the chairman of Esan South-East local government council with 34, 765 votes while ADP got 120, NCP 52 and LP 78.
In Esan North East, Augustine Okoibkole of the APC won the elections with 24,127 votes. ADP got 411, DA 30 and GPN 15.
Mr Eric Osayande of the APC also polled a total of 68,296 votes to win the chairmanship seat of Ikpoba-Okha local government council. ADP got 327, LP 506, NCP 256 and SDP 214.
The APC candidate in Esan Central Mr Waziri Idemudia was elected as chairman of the council with 28,387 votes.
Mr Patrick Aguinede of the APC and a former Commissioner of Education in the state polled a total of 34,854 to win the chairmanship seat of Esan West Local Government council.
While Mr Ogedengbe Odia is also the elected chairman of Igueben LGA having scored 25, 861 votes in the polls.
Mr Sylvester Okoro is the elected chairman of Orihonmwon local government council. He won the elections with 47,442 votes while ADP scored 329, LP 297, NCP 107, PPA 59.
John Akhigbe of the APC was elected as the chairman of Etsako Central with 22,235 votes and Evbareke Osunde also swept Oredo with 53,381 votes.
In Etsako East, Mr Aremiyau Momoh of the APC won the chairmanship seat with 32,906 to become the elected chairman.
Other results announced by EDSIEC chairman, showed that APC's Oteh Omoru was elected the chairman of Akoko-Edo with 42,471 votes. ADP won only 23, SDP 17.
In Ovia South West, Destiny Enabulele for APC triumphed with 56,664 votes. ADP won 360 votes, NCP 9, PPA 5, and PDP 1.
Ovia North East elected APC's Ogbemudia Osaze with 41,303 votes and Musa Yakubu won in Etsako West Local government councils.
Napoleon Agbama won in Uhunwode LGA with 32,292 votes, Owan East elected Andrew Osigwe, who won also polled 34,579 votes.
Eghe Ogbemudia swept Egor with 15,348 votes, the smallest votes so far reported for the party.
Frank Ilaboya easily trounced all other contenders for the chairmanship of Owan West LGA as he won with 28,406 votes. The ADP got 252, AD 100, LP 50 and SDP 56.
According to Orobator, Certificates of Return will be given to the winners who have been voted as Chief Executives of their various Local Government Councils at 3:00 pm on Monday.
"We will now compile results of the councilors and will brief you In about 48 or 72 hours," he said.
The post APC Wins All Chairmanship Positions In Edo LG Elections appeared first on Channels Television.
posted by
CAMPUS94